350 CAPACITY | 8,000 SQ FT
550 CAPACITY | 18,000 SQ FT
900 CAPACITY | 26,000 SQ FT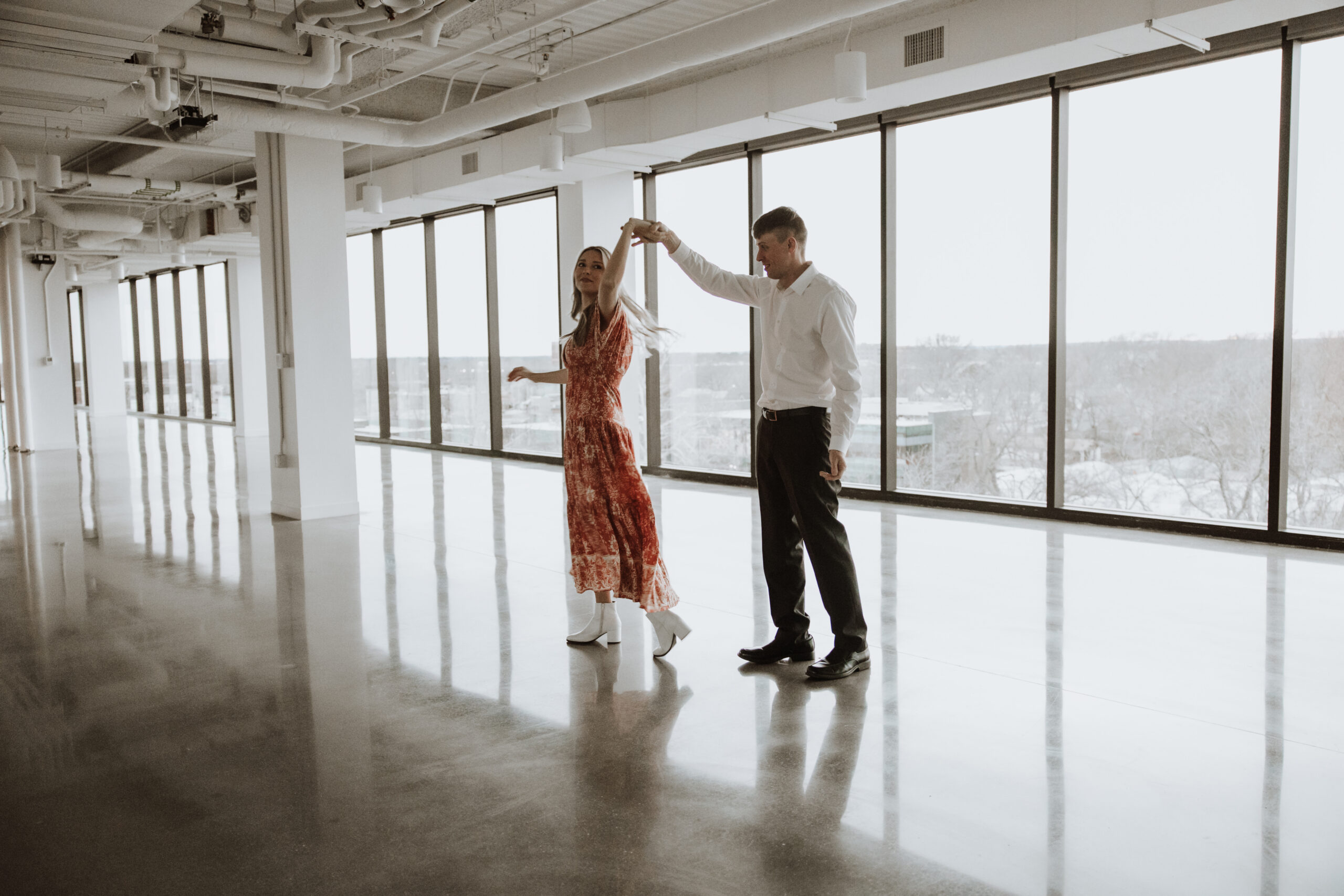 We utilized the 6th floor of The Ledger for an inaugural conference. Everyone at The Ledger was a pleasure to work with, and they made everything as easy as possible for us. The 6th floor itself is a beautiful space, and we were there just in time to enjoy the fall colors. We leveraged the natural lighting by setting up pipe and draping in the corners of the room for our breakout sessions, and I think all of the natural light helped folks feel less cooped up, which tends to happen at conferences. All of the vendors I worked with were familiar with the space, which helped make things easier for all of us! It was great to be able to make use of the large gathering space, bar, and patio area for full group gatherings, but also have the smaller conference rooms for more intimate conversations. If we ever bring the conference back to Bentonville, we will certainly work with The Ledger again!
-Autumn (AJ) Hough | Special Assistant to the CEO at Groundswell
We were excited to use the Ledger as a key component in the 2023 Heartland Challenge Startup Competition. This beautiful space, central to downtown Bentonville, was an impressive showstopper and garnered exceptional feedback from our participant teams, judges, and faculty from around the globe. One of our goals with this competition is to showcase our region as a destination for entrepreneurs to live, work and play. We knocked it out of the park again this year and owe many thanks to the Ledger team for helping us take it to the next level. See you next year!!!"
– Deb Williams, Director of Student Programs
The Northwest Arkansas Council hosted its annual luncheon of more than 150 members at Ledger's world-class event space in February 2023. The event was seamless, and the Ledger events team worked hard to ensure our vision was achieved. Guests were treated to panoramic views of the city of Bentonville, and Ledger staff made time to give attendees tours of the new facility after the event. We look forward to our next event at Ledger."
From the minute we arrived your team was ready to serve the Engine team. They helped us get all materials loaded and in the building in advance of the meeting. Your team also helped ensure all the tech was working and ready to go in advance of any attendees arriving. The top floor of the Ledger is a perfect location to enjoy downtown and a beautiful sunset while you host an event! Our clients couldn't say enough about the facility."
We held a Networking Event on the rooftop at the Ledger for our organization. We received so many positive comments regarding the venue. The view was amazing, and the space was more than enough for our 70+ attendees. The bar area was beautiful with great atmosphere. The staff at the Ledger was easy to work with and very responsive to our questions and requests. They made it easy to plan the event with their recommendations of where to set up different stations and list of approved vendors, who were familiar with venue. We had a representative available to us during the entire event just in case we needed anything. Great experience!
-Sheila Rogers, Director of Sales Dare Devil Display
The Ledger was an exceptional venue to host our PeopleForBikes' SHIFT'23 conference keynote and dinner. We were thrilled to have such an impeccable space to invite our event attendees to -- from the rooftop to the private terrace bar to the welcoming gallery space, The Ledger set the tone of modern elegance. The event team at The Ledger was also top-notch. They were professional, organized, and went above and beyond to help us make our event a success. They worked with us closely to understand our needs and vision for the event, and they executed flawlessly. We would highly recommend The Ledger to anyone looking for a unique and stylish venue to host their next event. The space is stunning, the team is professional, and the experience is unforgettable.
– Monique Gonzalez, Event Director – SHIFT'23 Conference
Our guests truly enjoyed their experience. Thank you so much for welcoming our group, and going above and beyond with our requests and last-minute accommodations. We are so grateful for all your support!"
– HIOLA TUYCHIEVA, UNIVERSITY OF ARKANSAS
Our guests truly enjoyed their experience. Thank you so much for welcoming our group, and going above and beyond with our requests and last-minute accommodations. We are so grateful for all your support!"
– HIOLA TUYCHIEVA, UNIVERSITY OF ARKANSAS
I love hosting our events at the Ledger! It's always a seamless experience, and guests really enjoy the space. Working with the staff has been 10/10, and we look forward to continuing to host at the venue."
– STERLING SMITH, ATENTO CAPITAL
"Nabholz Construction brought together 200 of our employees to our hold our Advanced Learning Conference on the 6th Floor. The Ledger building, along with its staff, align perfectly with our purpose to grow our people, build our communities, and serve our clients. We are so proud of the building, and to be able share this incredible space with so many Nabholz employees was an honor. We can't say enough about how helpful and professional the staff are – from Day 1 of Planning to the end of our 2-day conference, they helped to make our conference one of the best yet."
Our event was awesome. 10/10 and thank you so much to everyone who helped out (and stayed late)!! We plan on doing more events in the future and hope this encourages more Ledger members to do events."
First off, the venue itself was absolutely stunning. The modern and sleek design of Ledger created the perfect ambiance for our event. Our guests were blown away by the stylish decor and the overall atmosphere. The staff at Ledger were incredible. From the moment we arrived, they were welcoming, attentive and went above and beyond to ensure everything ran smoothly. Their professionalism and friendly demeanor made us feel right at home. One thing that really impressed us was the state-of-the-art facilities. The audiovisual equipment provided was top-notch. It truly elevated the experience and made our presentations shine."
– Leukemia & Lymphoma Society
At The Scout Guide Northwest Arkansas, we plan and host several events, but none bigger than our annual launch party where we reveal the first glance of our newest annual publication to our members. This year, I chose to host launch at Ledger and could not have been happier with every part of the process. The Ledger team is very organized and intentional with details (including the ones I hadn't thought of), they were extremely easy for my vendors to work with, and the process of setup and take down (not the most fun part) was so effortless. And the space is phenomenal. This will not be the only event TSG NWA hosts at Ledger!"
TOOLS FOR A SUCCESSFUL EVENT
Ask us for a list of Verified Vendors we have on file to help you leverage the hidden gems in Northwest Arkansas for a successful event.
Need help envisioning the space for your event? No problem, our 3D floor plan software will help make the space come to life.
Ledger offers a secure parking deck with quick and easy access. Ask about parking add ons to your next event.